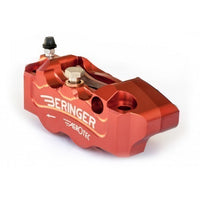 Beringer 4-Piston Left Aerotec radial Caliper 100mm (for use w/ Ohlins FG 324/424 Fork)
$729.99
WHY CHOOSE BERINGER BRAKE CALIPERS ?

BERINGER 4-Piston Radial Brake Calipers are CNC machined out of billet aluminum after careful design optimization with FEM software to offer the best compromise between weight reduction and strength required for racing.
100mm bolt spacing, Left side

**NOTE : Brake pads are included with caliper.**

Racing pads also available.