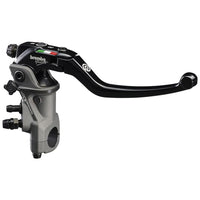 Brembo 19RCS Corsa Corta Master Cylinder 7/8" bars
$399.00
The modern motorcycle enthusiast uses their machine for more than what it was intended to do from the manufacturers. It can be anything from commuting, touring, sport and/or track days. To satisfy this, Brembo developed the 19RCS Corsa Corta Master Cylinder.
All riders wish that their bike was comfortable enough to tour on and fast and nimble enough to hit the canyons. This is where the Brembo Corsa Corta Master Cylinder thrives. It features three different bite-point settings: Normal, Sport and Race.
In the Normal setting, the bite point starts more gradually, making it ideal for city riding, touring or braking in poor grip conditions.
In the Sport setting, the beginning of the bite point is shorter than in the Normal setting. This setting produces a more dynamic response suitable for sportier riding.
In the Race setting, the position of the cam mechanism shortens the initial stage of the bite-point even further to produce the same immediate response of the master cylinders used in MotoGP. This allows the rider to reach the bite-point almost instantaneously and makes this setting ideal for use on the race track.
This adjustability combined with the MotoGP-derived RCS system allows the Corsa Corta to go anywhere and brake confidently no matter how or where you ride.
The Brembo RCS System allows the rider to choose between more power or more precision to best complement their riding style, track/street conditions and other brake components. The unique design of the RCS system offers the flexibility to change the brake lever ratio at the turn of a screw. The 20mm setting provides a more reactive braking response and the 18mm setting allows for better feel and modulation. Additionally, the Brembo lever features an adjustable thumb screw that can be customized to fit a range of riders' hands. In the event of a crash, the outer portion of the lever folds up and away to avoid damage. The patented master cylinder is constructed of forged aluminum and then CNC machined down to remove any excess weight. All of its components, including the piston, seals and pushrod, are the same as those used in MotoGP and WSBK.