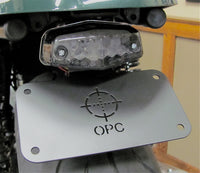 OPC Lucas Style LED Fender Eliminator Kit
$99.95
Kit Includes: 
Small Smoked LED Lucas Style Tail Light With Diamond Lens Style
Easy 3 wire design that functions as Brake and Running Light
License Plate Lights  illuminate plate Through Lens 

Includes Motone Plug and Play Rear Harness so brake light and rear signals plug in without cutting or Splicing. Red Wire With Double Connector is for turn signals that are dual filament with 3 wire connection so they can run as running lights as well as turn signals and option to use based on signals you have in 2 or 3 wire connection. 

This harness has provisions for both to plug in.
Fits 4x7 License Plates
Aluminum License Plate holder is finished with our Exclusive Mutli Stage Powder Coated, Scratch Resistant Finish
L-Shape Mount that allows the mounting of many different lights if you wish to change lights later.
Mount is Slotted to allow you to position Plate forward/backward to desired location. 
No Relay is needed to install this Kit
Triumph Bonneville, Thruxton, Scrambler 2001/2015
THIS KIT DOES NOT INCLUDE A UNDER PLATE UNIT, WE DO NOT CURRENTLY OFFER UNDERPLATE FOR THIS YEAR MODEL
Great Piece for the Do it your selfer.

Includes License Plate Holder + Tail Light+ Plug In Harness as shown Only (no underplate)
2001-2015 OPC Harness Legend

FITS: 2001-2015 Bonneville, Thruxton and Scrambler Only