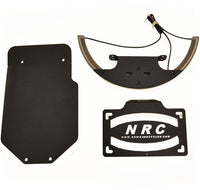 NRC Fender Eliminator Kit - Bonneville T100 (2001-2015)
$249.95
NRC hits the market with a custom designed fender eliminator kit for your Triumph Bonneville. Our kit cleans up the back of your Bonneville with the brightest signals and brake light on the market! Whether you want to retain the grab handle or not, our kit accommodates either or. This design follows the contour of the seat and lights up ALL the way around providing an incredible signal replacement. This kit also provides a belly pan to protect your seat underneath the bike.

Our license plate bracket is constructed from aluminum, black powder coated, and tucks up underneath your Bonneville, providing a very clean finish, as well as giving you extremely bright LED signals! Turn signal lenses are CNC machined from polycarbonate and our turn signal bracket is machined from billet aluminum. We use extremely bright 1mm LEDs, giving you incredible and custom turn signals... Day or Night!

A load equalizer is an optional module that will slow the flash rate. As is, it will flash a little faster than stock.