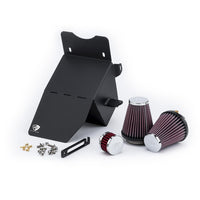 British Customs Airbox Removal Kit - Bonneville/Thruxton Carb
$402.70
The better your Triumph Modern Classic breathes, the better it performs. Its just that simple. With the British Customs Air Box Elimination Kit you can remove the restrictions inherent with the OEM air box and snorkel configuration and open up the fuel system with some free-breathing K&N cone filters. Dollar for dollar, this is the best performance upgrade you can get for your Triumph
Features:
Increased air flow means more horsepower
Improved throttle response
Two high flow washable K&N filters
All necessary hardware for stock reinstallation included
Included Components:
British Customs Battery Box
Stainless Steel hardware
K&N High Flow Filters
K&N Crankcase Breather Hose Filter
Carburetor Support Brace for carb models
Jetting Kit for carb models
---
 Common Q & A's:
Q:  Do you recommend this upgrade with my stock exhausts?
A: There would be almost no performance upgrade as the stock exhaust would make the flow "bottleneck" as the stock slip-ons are quite restrictive. For the best bolt-on performance upgrade, we recommend this with an exhaust upgrade

Q: Can I still use my sidecovers or will this leave the sides of my bike exposed?
A: Sidecovers can be used after installing the Air Box Removal Kit

Q: Which jets in the carb kit do I use for my British Customs exhaust?
A: We've included more than one size to ensure you get a ballpark range to start off with; Jetting will depend on the location/elevation/etc. If you are not familiar with jetting, we recommend getting your carbs tuned through a professional mechanic to ensure a proper install.
THIS PRODUCT IS FOR COMPETITION USE ONLY.
NOT FOR SALE IN CALIFORNIA.