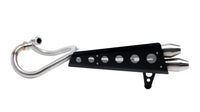 High Pipes For Street Twin
$1,724.94
The British Customs 2-into-2 High Pipes are modeled after the exhaust systems loved by such icons as Steve McQueen and Bud Ekins that allowed them to convert their TR6s into the original scramblers and desert sleds. The high header design of these pipes gives you more clearance than the stock system, improving your off-road experience and handling. The 2-into-2 High Header Exhaust System is a straight tube system with improved airflow over the stock system, vastly increasing your engine's horsepower. They also include improved heat shields to protect your legs from touching the pipes while you're out having fun.
NOTE: This system WILL fit the Bonneville T120 however it will be extremely loud when installed on Bonneville T120.
Features:
Under 12lbs
Increases horsepower
304 Stainless Steel
Includes heat shield, clamps, and hardware
Made in USA
Included Components:
Exhaust components
Heatshield
Mounting Bracket
Stainless Hardware
Stainless Clamps 
Common Questions:
Q: Is it difficult for a passenger to ride after installing these?
A: No, we haven't had any issues; check our Street Twin video series on YouTube as we rode a passenger around town with no issues