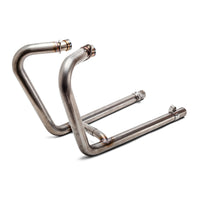 British Customs Drag Pipe Exhaust System
$949.95
Featuring an integrated louvre core design that is wrapped in stainless steel wool, our Drag Pipe system not only tunes the exhaust tone to something beefier than "semi-automatic potato gun" but maintains back pressure for roll-on performance. We also increased the diameter of our stainless steel headers to maximize flow.
NOTE: Does not fit onto Scrambler 900 
Features:
Straight pipe look and deep sound
Louvered baffle core for top performance
Stainless-steel 304 construction for durability
Full system replaces stock headers and mufflers
Brushed Finish
Made in USA
WEEKEND PROJECT READY
ADD ON THE PERFORMANCE ESSENTIAL PACK TO GET THE MOST OUT OF YOUR TRIUMPH
If you have installed or plan on purchasing one of our Slip On Exhausts, you should consider adding our Performance Essentials option to your order. Depending on the model you are working on, these Performance Essentials will vary. 
For Air Cooled Triumphs (Pre 2016 mostly), we offer our Air Box Removal Kit and Air Injection Removal Kit. When combined with a Slip On Exhaust, these products will enable your bike to get the proper intake needed to best support a free flowing aftermarket Exhaust and keep the engine running at the right temperature.
For Liquid Cooled Triumphs (Street Twin, Street Cup, Street Scrambler, Bonneville T120, Bonneville T100 Liquid, Bobber, Thruxton R, Thruxton 1200), we offer our Competition Header Systems. The will drastically increase the performance and sound of your Liquid Cooled motor and enable full access to the benefits of your Slip On Exhaust.
Included Components
Left Drag Pipe
Right Drag Pipe
Q & A'S
Q: Is there any baffling? 
A: Yes, there is a louvered baffle core inside of this exhaust for back pressure
Q: Are the Drag Pipes really loud?
A: These aren't your typical Drag Pipes where it's hollow and loud. These pipes have a louver baffle inserted into the pipes so that it's louder than stock with a very nice-raw tone
Q: Can I install some slip-ons onto this exhaust system?
A: This system is meant to be installed and used as a standalone