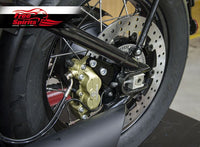 Bobber & Speedmaster 1200 rear Up Grade 4 pot Caliper Kit
$948.00
Rear floating disc & 4 pot caliper kit.
The kit contains:
4 piston "Brembo" caliper
Black anodized billet aluminum bracket
Fully floating brake rotors (diameter 300 mm), with high-quality braking band fully tempered, alloy hub and buttons.
It uses the Original master cylinder and brake line.
Fades resistance, Increases braking power and modulation.
Available for:
Triumph Bobber
Triumph Bobber Black
Triumph Speedmaster 1200
Quick and easy to mount, completely reversible.
Spare parts available.