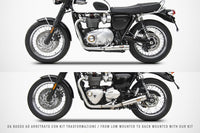 Zard 2 into 2 Exhaust Kit
$1,265.00
2 INTO 2 STEEL RACING FULL KIT WITH REMOVABLE DB KILLERS.
THE EXHAUST KEEPS OEM CATALYZER AND CONSISTS OF TWO HEADER PIPES STARTING FROM THE CYLINDER HEAD OUTPUT TO OEM CATALYZER AND TWO SILENCERS.
ZARD SILENCERS KIT CONSISTS OF STEEL LEFT AND RIGHT HEADERS PIPE, STEEL LEFT AND RIGHT SILENCERS AND FITTING KIT.
THE EXHAUST CAN BE FITTED IN LOW MOUNTED POSITION UNDER FOOTREST OR IN BACK MOUNTED POSITION BUYING 'BACK MOUNTED KIT' AVAILABLE AS OPTIONAL.
INCREASE, COMPARED TO THE ORIGINAL EXHAUST SYSTEM, IN TERMS OF TORQUE AND POWER AT ANY RANGE.
ASTONISHING SOUND.