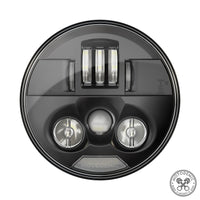 Motodemic LED Headlight - Bonneville T100 & T120 (2016+)
$609.00
Upgrade the lighting performance of your Triumph Bonneville T100 & T120 (2016+) with the Motodemic LED Headlight Upgrade. This "drop-in" design installs into your factory bucket in less than 15 minutes. We've designed everything to be simple to install and completely plug and play. No cutting, splicing, or guesswork. 100% reversible and will not void your warranty.
In order to be a simple upgrade, we have designed an adapter ring that seamlessly fits into the outer ring on your stock headlight. This pre-installed adapter ring is machined in the US from US-sourced aluminum and is hard anodized in Black. You also have the option of either the Evo S or Adaptive premium LED units that are also made in the US.
What's Included:
Headlight Adapter Ring (pre-assembled)
Choice of Headlight (Adaptive LED or Standard LED)
Headlight Options
Both of our motorcycle-specific LED headlamp options are made in the US and backed by a 5-year warranty. DOT and ECE Approved for all directions of traffic (symmetrical pattern).
Adaptive LED
The Adaptive 2 is an advanced LED headlight specifically designed to increase your nighttime safety and comfort. Onboard intelligence senses the lean angle while cornering to dynamically fill the dark inside corner (see photo). Similar to our Evo S, this Adaptive headlight produces clean, clear, LED lighting like what is found in some of the most advanced automotive headlights on the market today. Only available with a Black inner bezel.
Evo S LED
The STANDARD. Our Evo S LED features the super wide and smooth beam pattern low beam optics from the highly praised Adaptive LED, with a little extra output done by using the latest in LED tech. Ride into the darkest backroads with a high beam package that puts out an amazing amount of throw in combination with the low beam due to them both staying on. This combination creates the best of both worlds to keep you riding with plenty of light at speed. Never out-ride your light again. We finished the design off with a large, very bright, diffused front position optic to greatly increase your visibility to others on the road at all times. Only available with a Black inner bezel.
Adaptive & Evo S Specs:
Made in USA
DOT and ECE Approved for all directions of traffic (symmetrical pattern)
Color Temperature: 5000K (daylight)
Lens Type: Polycarbonate
Power Draw: 24 watts on low 36 watts on high
Connection Type: H4
5-year Warranty
40,000 Hour LED Lifespan Rating
Installation