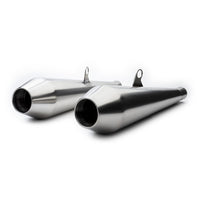 Predator Pro™ Slip on Exhaust - Triumph Thruxton R & RS /Speed Twin 1200
$689.94
The Predator Pro Exhaust pipes are fabricated using 100% 304 Stainless Steel. The high-performance mufflers feature our maintenance free Louvered Baffle system and are mounted with rubber bushings to isolate engine vibration and significantly reduces bracket fatigue, extending the longevity of your investment. Each system is handcrafted and TIG welded for the specific application. Installation is quick and easy for a bolt-on factory fit and finish. To match the factory headers on the Thruxton R, we offer the Predator Pro for this model in Brushed. Each unit is individually inspected prior to being packaged.
Features:
Free Flowing Exhaust to Increased horsepower
Classic Triumph exhaust tone
304 Stainless Steel for durability and quality
Compatible with a center stand
Made in the USA
To get the maximum Performance upgrade on your Triumph Thruxton R, try our Competition Header "X-Pipe" alongside the Predator Pro Exhaust. This Competition Use Only header upgrade opens up the exhaust and lets your bike run and sound as it should. If you are not comfortable with this installation please see your local Triumph dealer or call our team of Product Specialists toll-free at +1 (877) 999-BRIT.
Fitment:
To clarify, this product will not fit the Thruxton 1200 (non "R" model). We are in development on a version for that model. If you are looking for Predator Pro for that model, please contact us to ensure you are first to know what this is available.
Included Components:
Left and Right Predator Slip-on Exhausts
(2) Stainless Band Clamps
(2) Rubber Inserts
(4) Stainless Steel Mounting Spacers
Q: Do I need to remap after I install these pipes?
A: Due to Triumph "Self Learning ECU" a Re-Map is not required. However, for additional Mapping flexibility, we recommend that you purchase and install a DynoJet Power Commander V. With this unit installed you can upload a custom MAP developed by DynoJet for our Exhaust products. These MAPs are available here.
Q: What happened to the previous Predators? Why are they now called the "Pro" model?
A: After 100s of hours of R&D with the previous Predators we've been able to improve the overall quality and performance. The primary difference is that the Pro version is 100% Stainless Steel, from the internal Louvered Baffle System to the body, brackets and mounting hardware.