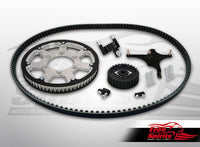 Belt drive conversion for Triumph Bobber & Speedmaster 1200 - KIT
$1,195.00
Belt transmission primarily made to reduce "loss of power", over to eliminate completely maintenance (no cleaning, no greasing).
Suitable for:
Triumph Bobber
Triumph Bobber Black
Triumph Speedmaster 1200
Ratio slightly shorter compare to the original.
61 teeth alloy pulley
27 teeth nickel plate pinion
136 teeth belt
Compatible with OEM chain guard.
ATTENTION! This is Not a Bolt-in kit! Due to a bracket which prevent us fitting the belt, it's necessary to cut and substitute it, with our removable one, see instruction on pages 9,10,12,13,14.
Quick and easy to mount, completely reversible.
Spare parts available.