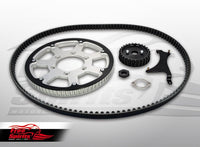 Belt drive conversion SLIM for Triumph Thruxton 1200 - KIT
$1,075.00
Belt transmission primarily made to reduce "loss of power" between transmission box and rear wheel, over to eliminate completely maintenance (no cleaning, no greasing).
Thanks to a New High Tech Belt and a New Slim rear Pulley this belt conversion kit, will allow you to mount perfectly in center a 180 series tire on 5.5 inch rim.
Suitable for:
Triumph Thruxton 1200 Standard
Triumph Thruxton R
The ratio is the same than the original one.
70 teeth alloy pulley
27 teeth nickel plate pinion
132 teeth belt
ATTENTION! This is Not a Bolt-in kit! Due to clearance reason it's necessary to shave down a protrusion on the gearbox, see instruction on page 9.
Kit is REVERSIBLE.
The OEM chain guard is not compatible with this kit, it can be replaced with the cod 307517.
Quick and easy to mount, completely reversible.
Spare parts available.