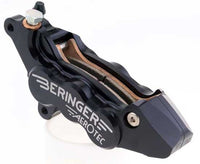 Beringer 6-Piston Left Axial Caliper - air cooled (2001-2015)
$729.99
WHY CHOOSE BERINGER BRAKE CALIPERS ?

BERINGER 6-Piston Axial Brake Calipers are CNC machined out of billet aluminum after careful design optimization with FEM software to offer the best compromise between weight reduction and strength required for racing.

Beringer Calipers are specific to each bike and bolt directly to your Triumph forks and fit over stock brake rotors or Beringer Aeronal or Classic Rotor, both available in Cast Iron or Stainless Steel. They come loaded with high performance street pads.

Racing pads also available.