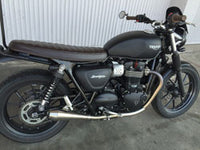 Cone Engineering 2-2 Shorty Performer Mufflers - Liquid Cooled
$559.95
THE LOOK
Designed for the liquid-cooled Triumph family.  Thruxton, Thruxton R, Bonneville T120, Bonneville T120 Black, and the Street Twin/Street Cup.  Smaller and more compact than OEM or our Dominator series.  The compact cone/reverse cone design bolts directly into place on your stock headers and mounting positions.  With only a 15" overall length, the exhaust will end well in front of the rear axle and chain adjuster, making routine rear wheel maintenance much easier.

Our Shorty Performer exhaust has a maximum diameter of 3.75" and features a large 2" reverse cone opening.  A lot of mufflers with large outlets have a "hollow" sound, but with our unique double-step, dimpled perforated core, you get a tight, solid, exhaust tone!
THE FIT
Fits the original equipment Triumph headers and catalytic convertor.  The muffler mounting bracket attaches to the backside of the stock passenger foot peg support, using an included spacer that replaces the stock rubber rear peg insert.  These mufflers can be used with either stock passenger pegs, or with foot peg block offs kits.  Our muffler kit includes clamps, sealant, and spacers – everything you should need to complete your installation. THE 2016 AND LATER (WATER-COOLED MODEL), SHORTY PERFORMER EXHAUST IS NOT DESIGNED FOR USE WITH EITHER FACTORY OR AFTERMARKET CENTER STAND. Stock kickstand stops are still in place on frame and header, no changes needed there. 
If you retain the stock catalytic convertor, no retuning should be required.
THE FINISH
We match the finish of our mufflers to the finish of the OEM headers.  Standard finishes are: Bright Polished for the T120 or Thruxton 1200, and Brushed Finish for the Street Twin, Street Cup, or Thruxton R.  We offer the optional Black Ceramic Coating for the T120 Black and all other models if you desire (additional $100 cost per set).
THE SOUND
Even with the minimal size of these mufflers, you don't get an excessively loud sound when you retain the stock catalytic converter.  They are slightly louder and with a little more aggressive than our Dominator Sport mufflers, when fitted to the same motorcycle.  IF YOU REPLACE THE STOCK CATALYTIC CONVERTER WITH A "CAT DELETE DEVICE", THE EXHAUST WILL BE MUCH LOUDER.
CONE ENGINEERING "SHORTY PERFORMERS"
Part Number
Model
Fitment
Material/Finish
Retail
MC-CN-BPW

Bonneville T120
(2016-Present)
Bonneville T100
(2017-Present)

No Center Stand
304SS
Bright Polished
$559.95
MC-CN-TPW-BSH
Thruxton 1200R
(2016-Present)
Speed Twin (2019-)


No Center Stand
304SS
Brush Polished
$559.95
MC-CN-TPW-BRT
Thruxton 1200
(2016-Present)
No Center Stand
304SS
Bright Polished
$559.95
MC-CN-SPW
Street Twin (2016-Present)
Street Cup (Present)
No Center Stand
304SS
Brush Polished
$559.95
Black ceramic is a special order option. (ADDITIONAL COST IS $100 PER SET.) Please allow one week lead time prior to shipping