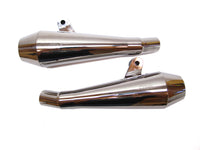 Cone Engineering Shorty Performer - Air Cooled
$505.95
LOOK
A new look for your modern classic Triumph.  If you're tired of the same old muffler, now there is a more aggressive, tucked-in look for Thruxtons and Bonnevilles.  This new design is smaller and lighter, finishing just before your bottom shock bolt.  The cone has a maximum diameter of 3.75" and a large 2" opening on the reverse cone.  A lot of mufflers with large outlets have a "hollow" sound, but with our unique double-step rifled perforated core you still get a tight solid tone!
FIT
Fits the original equipment Triumph headers and uses the stock muffler clamps if available.  The muffler mounting bracket attaches to the REAR of the stock passenger foot peg support, using an included spacer that replaces the stock rubber rear peg insert.  Can be used with stock passenger pegs or with foot peg block offs kits (may require longer bolt be used with block off).  Muffler kit includes a frame mounted kick stand stop that replaces the stock muffler-mounted stop.  Bonneville models have an optional bolt-to-frame center stand stop.  All mufflers come in bright polished 304 stainless steel.  Currently not available for "Mag Wheel" Bonneville.
SOUND
Due to the minimal size of these mufflers, you should expect them to somewhat louder than our Dominator Sport mufflers.
Regrettably, these mufflers are not available for sale or use on California licensed vehicles.
Part Number
Model
Fitment
Material/Finish
Features
Retail

MC-CN-BVS

Bonneville or T100

2002-
2016

304SS Bright Polished

Fits w/ or w/o
center stand

$659.95

MC-CN-TXS

Thruxton

2004-
2016

304SS Bright Polished

NO center stand

$659.95