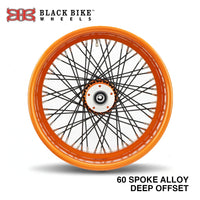 Harley Davidson 60 Spoke Alloy, Deep Offset Wheel Kit - Stage 1 - Any Size, Any Custom Finish! Deposit.
$1,560.00
Deposit to Start Build*
GET A QUOTE
Wheel kits start at $2000. USA Residents Only Deposit: Stage 1- $1500, Stage 2- $2000.
Dealer and International Orders: Payment due in full at time of ordering.
*Deposits paid with credit card includes a 4% fee. To avoid fees you can pay via bank wire or transfers. Zelle payments to info@canyonmotorcycles.com
Black Bike Wheels are a complete set of bolt-on wheels for your Indian Motorcycle weighing in at 10-30% less than OEM wheels. This translates to INCREASED STABILITY AND HANDLING, FASTER ACCELERATION, AND BETTER BRAKING.

BESPOKE CUSTOM WHEEL KIT:

Stage 1 – wheels only
CNC machined
Direct bolt on
Single or twin disc front
Lightweight Race Cush-Drive
Compatible with ABS and Traction Control Systems

Use OEM rotors and rotor bolts
Various custom sizes available
Any custom finish
Please submit our Get A Quote form for a detailed estimate.
Call 310-455-7433 or email with any questions.
Or pay deposit here and a sales rep will contact you to go over and set up your order!
We also take payments by, Bank Wire or Transfer. Zelle payments to info@canyonmotorcycles.com
Credit card payments are now subject to 4% processing fee.