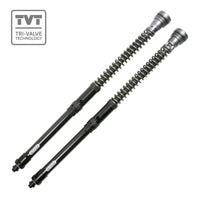 Nitron Cartridge Kit TVT 22mm piston [for use with 41mm Conventional forks]
$999.00
TVT 22mm piston  [for use with 41mm Conventional forks] 
Due to the complex nature of the installation and the unique tools required, TVT cartridge kits should only be fitted by Nitron or an authorized fitting centre.
Nitron TVT Adjustable Fork Cartridge Kits offer the same level of improvements in rider control, performance and comfort that have become the trademark of the Nitron product. The system features a large bore 22mm piston which provides significant improvements in performance over the OEM set up. Independent adjustment of rebound (right fork) and compression damping (left fork) is both easy to use and extremely effective. In addition to this, a key feature of the TVT Fork Cartridge Kit is the third, high speed damping valve incorporated into the compression cartridge. The valve is pre-set to react to high-speed, hard edge bumps which normally unsettle a well damped set up especially when combined with hard braking and cornering forces.
All three valve pistons can be quickly and easily removed for re-valving without the need to remove the forks from the bike.
NITRON 02 SYNTHETIC FORK OIL
Nitron TVT Fork Cartridges are developed using Nitron 02 Synthetic Fork Oil. It is vital that this oil is used throughout service to ensure the correct levels of performance, safety and durability are achieved.
NOTE: IMAGE USED FOR ILLUSTRATION PURPOSES ONLY. SPECIFIC CARTRIDGE END FITTINGS MAY DIFFER FROM THAT SHOWN.
Please call or email info@canyonmotorcycles.com to see if fitment is available for your bike before purchase.
Please send in pic of your bike, and let us know the  Year, Make and EXACT Model bike.
Special order import parts subject to shipping and duties