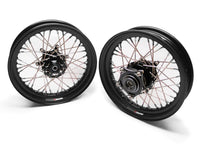 40 Spoke Steel Retro Wheel Kit - Stage 1 - Any Size, Any Custom Finish! Deposit.
$1,560.00
Canyon TT Wheels are a complete set of bolt-on wheels for your Triumph Twin, delivering INCREASED STABILITY AND HANDLING, FASTER ACCELERATION, AND BETTER BRAKING.
BESPOKE CUSTOM TT  WHEEL KIT:
Steel Rim kits are a complete bolt-on set of wheels with economical steel rims for that budget project.

STOCK SIZE WHEEL KIT:
-Lightweight Race Cush-Drive
Availabe in
-16" x 3.0" Steel front rim
-16" x 3.0" Steel rear rim
or
-21" x 2.15" Steel front rim
-16" x 3.0" Steel rear rim
-Designed to use OEM sized rotors and sprocket allows you to run a up to a 150 Tubeless rear !
Produced and hand built in the USA featuring:  
Stage 1 – wheels only
CNC machined hubs 
Direct bolt on
Single or twin disc front
Lightweight Race Cush-Drive
Use OEM rotors and rotor bolts

Compatible with ABS and Traction Control Systems.

Various custom sizes available
Any custom finish


Stage 2 –

 

ANY TIRES OF YOUR CHOICE 

Shipped mounted and balanced
TUBELESS OPTION AVAILABLE ON SPOKED WHEELS


Please submit our Get A Quote form for a detailed estimate.
Call  310-455-7433 or email with any questions.
Or pay deposit here and Adrian will contact you to go over and set up your order!
We also take payments by, Bank Wire or Transfer. Zelle payments to info@canyonmotorcycles.com

Credit card payments are now subject to 4% processing fee.